About Scott Wallace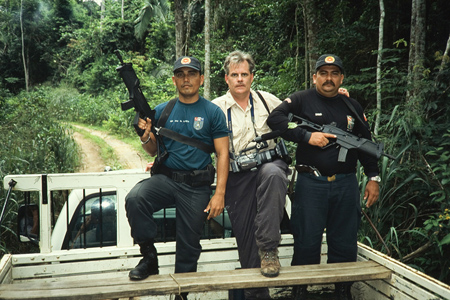 On assignment
in the Amazon, 2002
Scott Wallace is a writer, photographer, broadcast journalist and public speaker who covers the environment, vanishing cultures, and  conflict over land and resources in the world's volatile frontier regions. He is a former Central America correspondent for CBS News,  Newsweek, and the Guardian.
Wallace brings the full range of his writing and reportorial talents to bear in his award-winning The Unconquered. The book chronicles his journey into the deepest Amazon wilderness to track an uncontacted indigenous tribe. Equal parts personal memoir, social history and adventure thriller, The Unconquered brings to life a hidden world of darkness and danger that parallels Wallace's own interior quest to come to terms with personal loss. The late Peter Matthiessen, a two-time National Book award-winner, called The Unconquered "exciting and authentic — a great pleasure to read." Sebastian Junger says it's "riveting and brilliant — journalism at its very best."
Scott's assignments have taken him on expeditions into the Himalayas, the Andes and the Amazon, and from the Alaskan Arctic, to the clandestine arms bazaars of the former Soviet Union. He has authored several feature stories for National Geographic, and his writings about war, revolution, international organized crime, and indigenous cultures have also appeared in Harper's, Grand Street, National Geographic Adventure, Smithsonian, the Village Voice, and Sports Afield, among many others.
His photography has been featured in Smithsonian, National Geographic Traveler, Outside, Details, Interview, Sports Afield, the New York Times, and Newsweek, and his television producing credits include CBS, CNN, Fox News, and National Geographic Channel.
He has three sons and lives in Washington, DC.
To book a reading, assignment or workshop, and to find out more about how Scott Wallace can make your event come alive with richly illustrated, personal tales of high adventure and deep relevance to the times we live in, please go to the contact page on this website.
See what past visitors have said about Scott's work and scottwallace.com in this archive.